Crescendo R
Brown colt mature 16.2hh
SOLD
25/12/2017
Sire: Contendro I Dam: Futuristic Luck
Crescendo R is a two year old colt by Contendro I. Contendro I is the leading event sire in the world and has thrown many Olympic horses including Chipmunk who Michael Jung the German superstar has bought specifically for the Tokyo Olympics. Chipmunk has finished a 4* three day event on 19.4 penalties with his previous rider, Julia Krajewski. This is a world record.
Crescendo R is out of Futuristic Luck. Futuristic Luck is a full sister to All Luck who was a thoroughbred that with Shane Rose went to the Beijing Olympics in 2008. All Luck was a special horse and one of the most talented thoroughbreds. Isabelle Werth saw All Luck schooling in dressage and said it was the best thoroughbred dressage horse she had ever seen. All Luck and Shane had just come 3rd at Burghley in 2006. Heath really rated All Luck and went out to find any relatives and found Futuristic Luck
Crescendo R is of huge interest from a eventing competition point of view with an Olympic destiny and depending on how he shapes up the fact that he is half thoroughbred is also of huge interest from a stallion point of view.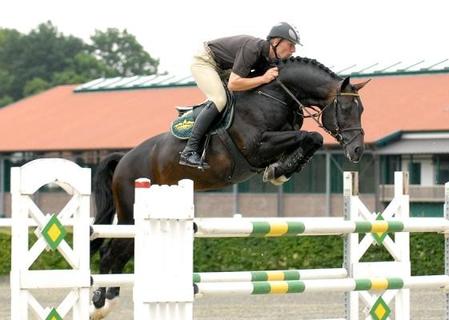 Contendro I
All Luck and Shane Rose
Contendro I
Contender
Calypso II
Gofine
Bravo
Reichsgraf
Ofarim
Futuristic Luck xx
Bao Lack xx
Blushing Groom xx
Break Through xx
Mazyooneh xx
Bustino xx
Fly Baby xx